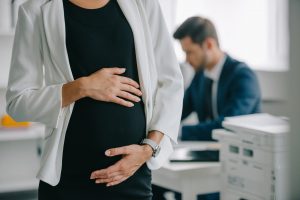 Pregnancy discrimination involves treating a woman (an applicant or employee) unfavorably because of pregnancy, childbirth, or a medical condition related to pregnancy or childbirth.  The Pregnancy Discrimination Act (PDA) is a federal law that forbids discrimination based on pregnancy when it comes to any aspect of employment, including hiring, firing, pay, job assignments, promotions, layoff, training, fringe benefits, such as leave and health insurance, and any other term or condition of employment.  The PDA applies to all employers with fifteen (15) or more employees.
Louisiana state law also prohibits employment discrimination on the basis of an employee's pregnancy, childbirth, or related medical condition.  Under Louisiana law, employers must provide female employees affected by pregnancy, childbirth, or related medical conditions the same benefits or privileges of employment that are granted to temporarily disabled employees, including leave benefits and transfers to less strenuous or hazardous positions.  Furthermore, an employer must grant a request for a temporary job transfer due to an employee's pregnancy provided that the request can be reasonably accommodated.
If you believe you have been subjected to pregnancy discrimination, you may have the right to pursue a legal claim.  To discuss your questions regarding pregnancy discrimination, contact New Orleans attorney Christopher Williams at Chris@williamslitigation.com or 504.308.1438.